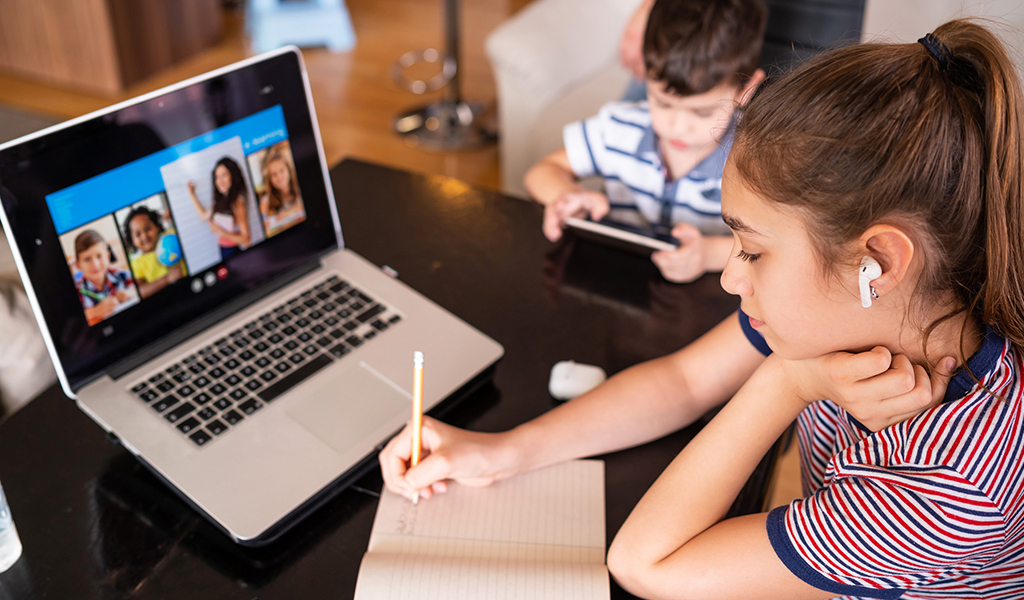 The idea of distance learning is new to us all. We are all figuring it out as we go. Having your children taken out of the classroom and forced to learn lessons via video chat can be very challenging, especially when your child is used to a traditional learning environment.
To help, we have compiled a few tips to help navigate this new learning situation:
Limit Distractions
Children are not known for having the longest attention spans, so it's important to limit their distractions. Make sure that the TV is not playing in the background during school time. Keep their devices at bay so that they can have an easier time paying attention to their teacher on video calls.
Use your child's device or TV time as an incentive to get through their school work. It's important to give your child necessary breaks throughout the day.
Create a Designated School Space
Just like how you have a designated space with your work setup, create a space for your children to have school in. The space should be quiet and comfortable for your child. This dedicated space will help your child develop a routine when it comes to home-schooling. Make sure this space is away from the TV to limit distractions.
Allow for Breaks
Try to keep as normal and consistent of a routine as possible. Give your child a time for recess, a time for lunch, maybe a snack time or a walk outside. It's also important to remember that this is new to all of us, and it's ok if your routine doesn't look exactly the same every single day. Some days you might have more recess than other days, and that's okay!
Stay in Touch with Other Parents
Like we said, this is new to everyone. It's likely that other parents are doing things differently at home than you are and vice versa. Talk to the parents at your child's school and ask them what is and isn't working for them? What have they had great success with? Talking to other parents is also a good outlet for you to help you realize that your struggles with home-schooling are very much a shared feeling.
This is Not a Vacation
You might need to remind your child of this. Just because they are physically out of school for a few months, doesn't mean they are out of school for a few months. Remind them that their education comes first, and that they should be taking their lessons seriously.
Schedule! Schedule! Schedule!
Never underestimate the power of a schedule. Make sure your children are sticking to their normal sleep schedule. If they went to bed at 9pm during the school year, they should still be going to bed at 9pm now. Schedule a time for breakfast, lunch and dinner. Space out the school subjects and try to stay consistent with that every day. Remember to schedule those breaks as well!
It's not going to be perfect, and some days will be easier than others, but remember to do your best and the rest will follow!
We know in these uncertain times there can be a lot of questions. Check out our FAQs for further assistance, or another one of our resources.