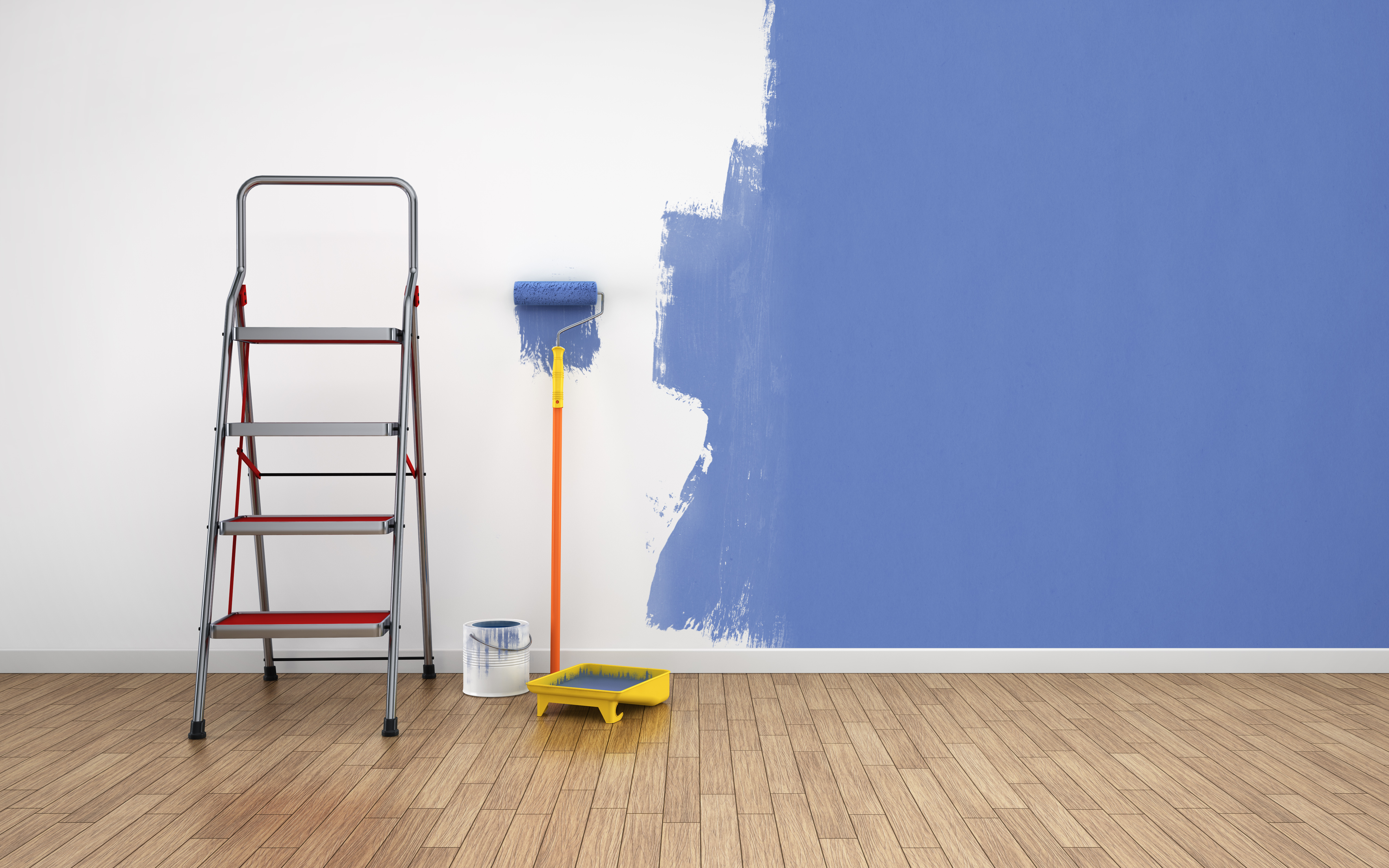 DIY projects should be seen as investments, or low cost, easy fixes that increase your home's value without putting a hole in your wallet.
Interior Projects
Remove the popcorn ceiling
It's wise to test your popcorn ceiling before removing it! Houses built before 1980 may contain asbestos. After testing, prep your room because it's going to get messy. Start by wetting your ceiling with warm water and soap to loosen up the stucco. Use a putty knife to scrape off all excess stucco. Finish the project by sanding off any remaining stucco and painting with the color of your choice. A contractor could charge up to $1,000 to do this, so tackling this yourself will save you money and increase your home's value!
Update old paneling
Wood paneling was popular over 50 years ago, but it's no longer a trend. Tearing down old paneling and replacing it with drywall can cost a fortune, but there's a simple fix. Purchase a container of spackle and fill in all the vertical grooves on the paneling. Then, let it dry for a couple hours and sand the entire panel before painting to give the paint something to hold on to.  Updating out-of-style wood paneling can attract home buyers. As buyers search for homes and see houses that have wood paneling, they could think, "If they didn't fix this, what else didn't they fix?"
Bathrooms
Remodeling or updating your bathroom can increase your home's value and you could possibly recoup about 60% of the money you put into it. Some simple ideas for updating your bathroom include: adding heated floors, installing modern fixtures and painting your bathroom with neutral colors.
Exterior projects
Landscaping
Don't judge a house by its landscaping, but it's pretty hard not to, right? Landscaping is the first thing people notice when they arrive at your house. Having a lush and colorful landscape will improve curb appeal and increase your home's value, since it's one less thing a home buyer will have to worry about. By planting a wide variety of plants in the right locations, you can possibly save hundreds in heating and cooling every year!
Outdoor lighting
Installing outdoor lighting is now easier than ever. Most lights  come equipped with tiny solar panels on top, so they charge during the day and turn on when the sun goes down. A house that is lit at night will keep burglars away and your home safe. By lighting up pathways,  you're able to see where you're walking at night. Lights can prevent late night accidents by allowing you to see if any obstructions have entered your path. By using lights that only require solar power, you're  saving money on your electricity bill and do not have to dig trenches to lay an electrical line from light to light.
Increasing your home's value doesn't mean you have to do a huge kitchen overhaul. By doing small DIY projects around your home, you will slowly increase value without burning a hole in your pocket.
If you're thinking about buying a new home, talk to a loan officer today to get started!