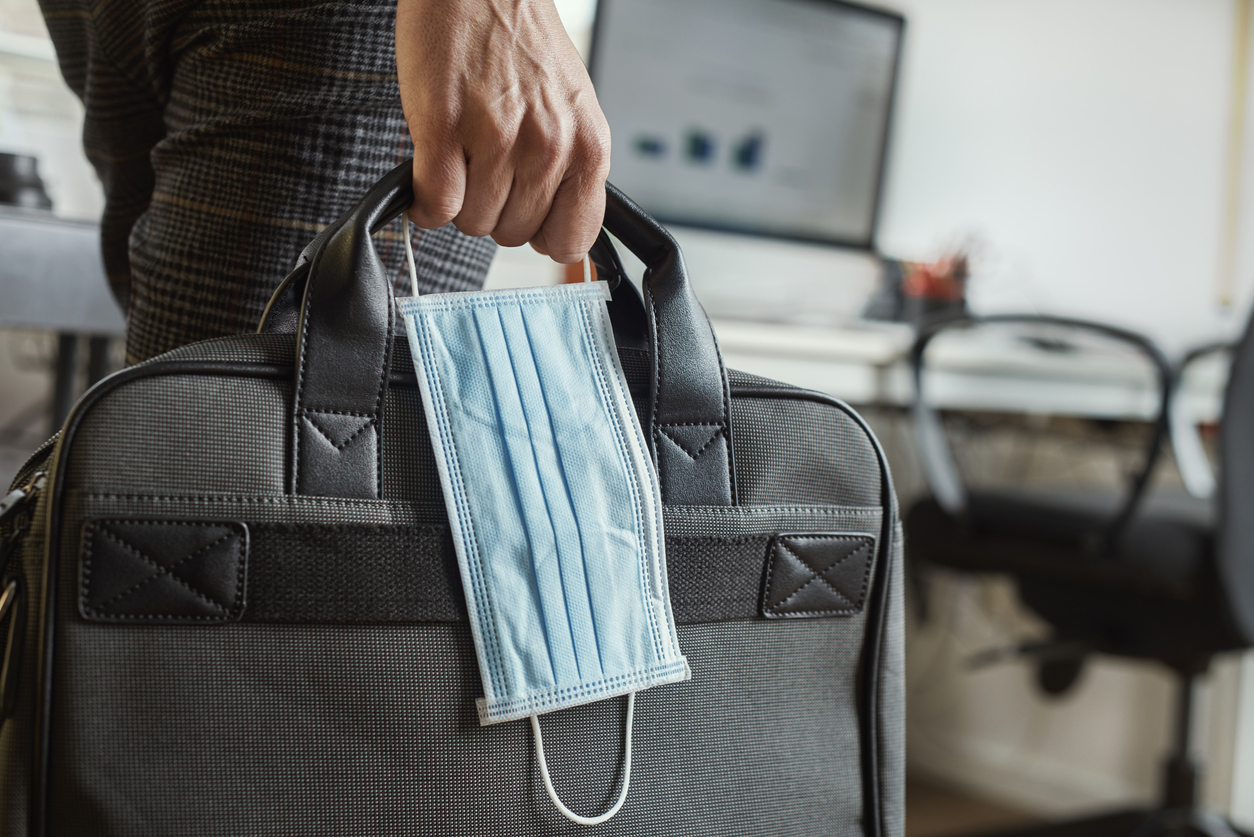 As many states and regions begin to slowly reopen, many workers are gradually heading back to the traditional office environment. Going back to the office during a pandemic is going to look a little different than it used to, so it's important to follow certain steps to ensure your safety and the safety of others.
Review Your HR Policies
Check with your  Human Resources department before going into work. It's likely they have put something together to help ease your transition back to work. New policies on temperature checks, disinfecting, hand sanitizing stations and more will likely be added to your new HR workplace policy. Depending on your office policy, face masks may also be mandatory or highly encouraged.
A Clean Workspace
While the cleaning staff at your office is working hard to keep the entire office clean, you also need to be responsible for keeping your own workspace clean. Be sure to bring hand sanitizer and some  disinfectant wipes with you when you go back to the office.
Make it a habit to sanitize your hands after touching high-touch surfaces, such as the community coffee pot, the printer, doorknobs, etc. You should also make a habit of using disinfectant wipes to periodically wipe down your keyboard, mouse, desk surface and anything else in your workspace that you regularly touch throughout the day.
Good Hygiene
There's never been a better time to practice good hygiene. As we noted above, make sure to sanitize your hands and high-touch surfaces on a regular basis. In addition to that, make it a point to wash your hands for at least 20 seconds after using the restroom. If you feel the need to cough or sneeze, make sure you are appropriately covering your nose and mouth with either a tissue or your elbow.
If you feel ill, plan to stay home to avoid infecting others in your office. Working from home will continue to be a regular practice for those that feel unwell.
Feelings of Anxiousness or Worry
Going from self-isolation for months to heading into the office every day will not be an easy transition for most. You may experience a wide-range of feelings, including fear, anger, sadness, irritability, guilt or confusion. The pandemic may also have increased feelings of stress, anxiety or depression.
If this is the case, you should  talk to your manager. Your manager will likely work with you and your HR department to come up with the best solution for you. If going into the office is causing more problems for you, you may make a case to continue working from home. No one wants you to feel unsafe or distracted while at work.
Remember to take care of others and continue to take care of yourself.