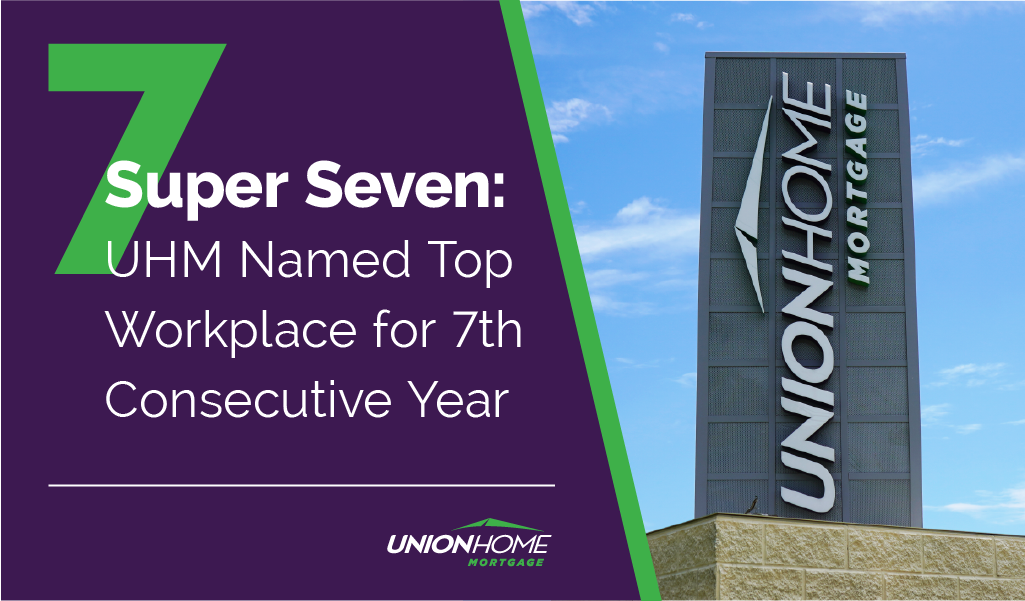 In 1970, Union Home Mortgage (UHM) was founded with a mission: to help make homeownership an opportunity everyone could experience. To achieve this vision, it meant establishing a top-notch organization deeply rooted in its team and the individuals and families they support. Today, UHM is recognized around the U.S. as a trusted mortgage lender providing world-class service and unwavering support to help people achieve the dream of homeownership.
At its core is UHM's dedicated Partners and family-like culture that has made it a top organization. For the last six years, we've been recognized as a Top Workplace by The Plain Dealer. We're proud to announce we've been recognized as the #1 Top Workplace in all of Northeast Ohio with our seventh – yes, seventh – consecutive year.
"We are honored for the continued validation as one of Northeast Ohio's top workplaces," said Bill Cosgrove, president and CEO of Union Home Mortgage. "Every day, our UHM Partners are making home ownership – a central piece of the American Dream – a reality for community members and families across the country. This award is a testament to our commitment to uphold our motto of 'Promises Kept' to our customers, communities and one another."
So, how did we achieve this feat? Working for an organization that aligns with one's personal values and morals is a driving force for an individual's career aspirations. Everyone's wants and needs can vary but after thorough research, there are seven attributes of a great workplace that most people look for in a company and how they relate to Union Home Mortgage (UHM).
Clear and Concise Communication
The first and foremost desired attribute that one looks for in a company is good, clear and concise communication. Not only between fellow partners who work in the same department but throughout the whole company and its clients. When team members can communicate well with each other and with their clients, the organization succeeds.
One of UHM's top priorities is good communication between its Partners and clients. As stated in the UHM Code of Conduct: "Over-communicate with everyone; Customers, Realtors, Brokers, and fellow Partners." By implementing this code into UHM's company environment, it ensures that, with well-rounded communication, the team can achieve anything together.
Another desired attribute that people look for in a company is diversity and inclusion. Having a team of diverse individuals has many benefits for both the partner and the company. It is important to note that both diversity and inclusion go hand in hand. If you have diversity but do not have inclusion, a company misses out on the opportunity for new ideas and perspectives that can benefit the growth of the company. Also, when an individual feels respected for their differences and what they have to offer, they become more productive and strive to work harder.
Diversity and Inclusion Officer, Chrishawna Cunningham does an amazing job at making sure that UHM utilizes and includes each Partner that works for the company. She understands that by working with a diverse group of people, it can impact the company in a such positive way while also creating an encouraging work environment for all Partners. This translates to a positive experience for UHM's clients as well. 
Fairness in the workplace is another yearned for attribute because people want to work for a company that treats their employees equally, no matter what position they are in. When employees of a company are treated fairly, it motivates them to work even harder because they know their opinion is respected and welcomed.
At Union Home Mortgage, everyone is deemed to be equal and is encouraged to voice their opinions and beliefs to bring a fresh, new perspective to the company. UHM respects and admires individuality and views it as a positive trait because individualists are not afraid to step out of the box and take risks when it comes to sharing their thoughts and ideas.
Positive Work Environment
Nobody wishes to be surrounded by stress and negativity on a daily basis -- that is why a positive and uplifting work environment is another attribute that people crave when working for a company. Being surrounded by positivity not only boosts productivity in the workplace, but it promotes individual growth as well.
Union Home Mortgages Sixth Code of Conduct states: "As a Partner, you are responsible for creating and maintaining a positive work environment with all other Partners. Your fellow Partners are counting on you." By implementing this Code of Conduct, it inspires Partners to be creative and productive, while also bringing everyone together to successfully collaborate.
Being able to collaborate with a group of people is a critical skill to have and is just as important as working individually. There is rarely ever a time when people don't collaborate in the workplace, therefore it is one of the attributes that people look for in a company. Ultimately, having the ability to successfully collaborate with team members ensures that a company can obtain the best quality of work because everyone is putting their ideas together.
The Partners at UHM understand the importance of collaboration and its impact on helping the organization achieve objectives and business goals. When Partners are able to respect each other's ideas and come together, projects are completed on time and UHM stays ahead of the mortgage industry.
Hardworking, dedicated people don't just want to work -- they also want to be a part of the organization as well. When individuals invest their time in both their work and the organization, it makes them feel involved in a greater purpose and makes their career much more fulfilling.
On top of conducting world-class business across the nation, Union Home Mortgage and its Partners also pride themselves in bettering the community. For example, UHM is constantly finding ways to raise money for non-profit organizations, they also support small local businesses and much more.
Finding a company to work for that encourages its employees to create a well-rounded work and life balance can be difficult. It's critical to an individual's mental health to separate life and work so that they don't become exhausted and stressed from their workload and experience "burnout."
The second Code of Conduct for UHM states: "Have fun, but get it done on time!" By implementing this specific Code of Conduct into everyday life at the UHM office, it shows Partners that they want them to come into work and have fun. This method proves to be useful because Partners who get more freedom will want to work harder.
It's amazing how various attributes can make a person's career more satisfying and fulfilling for them. Whether you are fresh of out of school or looking for a career change, it's important to keep these characteristics in mind while looking for the perfect company. It is also encouraged to explore what characteristics you look for in a company so that you can be prepared for what comes next for you and your career.