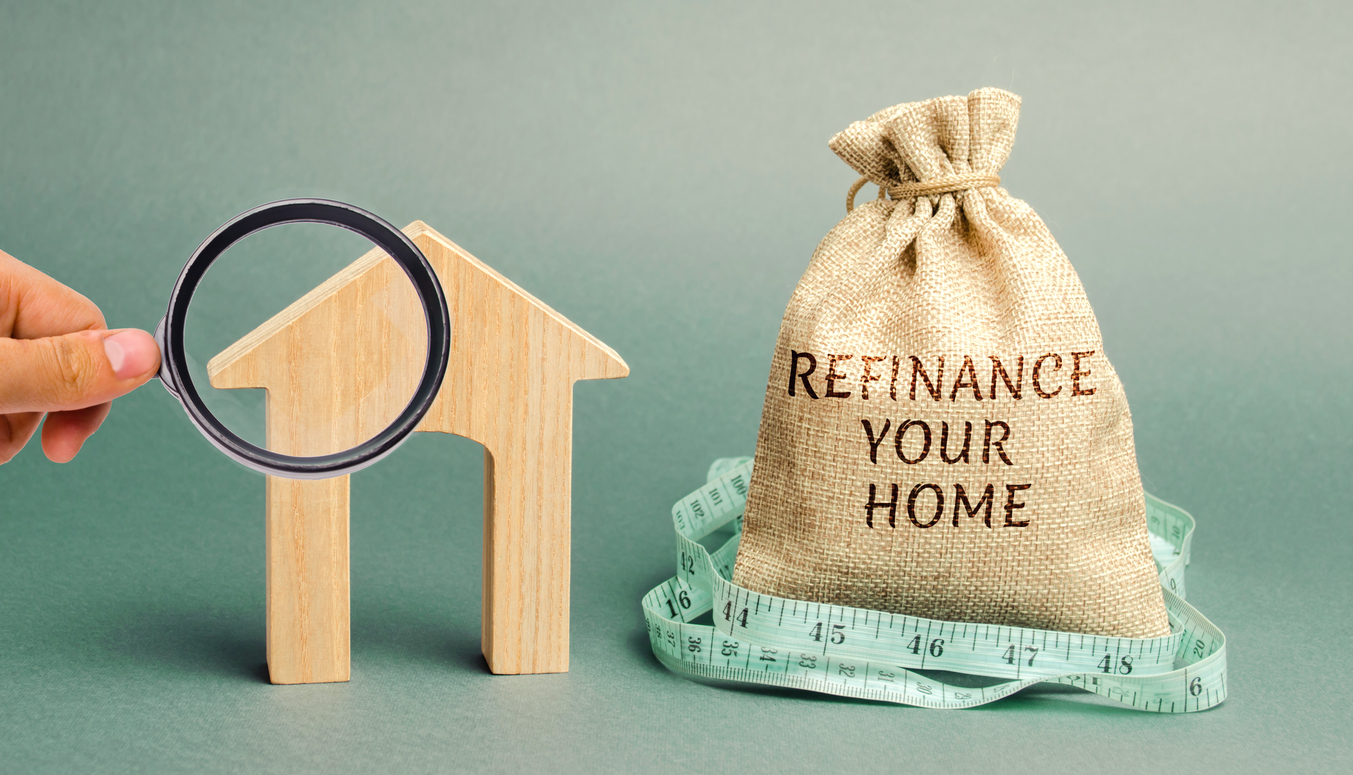 You've worked hard to be able to buy a home and secure a mortgage. Naturally, you want to make sure that your mortgage is working for you.
Refinancing your home loan may be one way to optimize your biggest life investment and ensure that you're on track to reach your other financial goals. Refinancing could help you save on the total cost of your home, reduce pressure on your monthly budget, tap into the home equity you've built up to add home improvements and more. But there are many factors at play, and it's important to understand the whole process of refinancing and what it may mean for you. 
Let's explore what refinancing is, the best way to refinance your mortgage, and how to get started.
What Does it Mean to Refinance a Mortgage?
Refinancing your mortgage, meaning trading in your old home loan for a new one, is also known as a refi. The reason that many homeowners choose to refinance is to get new loan terms that more closely align with their current needs and goals.
With today's historically low interest rates, many borrowers who took out a mortgage five, 10, or 20 years ago may be able to get a significantly better rate and pay off their home faster. Conversely, homeowners who are struggling to make payments can refinance to a longer loan term and lower their monthly mortgage amount. 
Mortgage refinancing can also be used to convert home equity to cash, remove costly mortgage insurance premiums (MIP) on an FHA loan, or switch from an adjustable-rate mortgage (ARM) to a fixed-rate mortgage.
How Mortgage Refinancing Works
How do you refinance your mortgage? The basic mechanism is simple. When you initially buy a home and obtain a mortgage, the loan amount is paid to the seller. When you refinance, you get a new mortgage and that loan amount is used to pay off the balance of the old mortgage.
If you have sufficient equity in your home, you may choose to borrow more than you owe on the old mortgage and pocket the difference. This is known as a cash-out refinance and it can be helpful for consolidating higher-interest debt, making home repairs, or covering other major life expenses.
The mortgage refinance process requires you to qualify and apply for a loan much like the first time around. Once you receive an offer, you can compare it to the terms of your existing loan and determine if it's a better deal.
As with first mortgages, there are typically closing costs, and you'll need to factor these into your decision to refinance. When you refinance with Union Home Mortgage, you may have the option to finance closing costs rather than pay them upfront.
Your lender can help you understand all your financing options and give you the information you need to make the right choice for your specific situation.
The 5 Steps to Refinance a Mortgage
The mortgage refinance process follows the same basic sequence as a first mortgage, albeit on a somewhat accelerated timeline. Read on for an overview of all the steps for refinancing your mortgage: application, lock-in, underwriting, appraisal and closing.
Step 1: Applying for Refinance
The first step is refinancing your home is applying for a new loan – either with your current mortgage holder or with a new lender. 
They'll ask you for some of the same documentation you produced when you first applied for the mortgage – like photo ID, recent bank statements, pay stubs, and W-2 forms. The lender will then determine if you qualify for a new loan, and if so, on what terms.
Step 2: Securing Your Interest Rate
After you're initially approved, you may be able to lock in your interest rate to ensure it doesn't increase before you close on the loan.
Rate locks typically last between 15 and 60 days, depending on the loan type, your location and a few other factors. Alternatively, you may be offered a mortgage rate lock with a float down feature. This option would allow you to reduce your interest rate if that rate falls during your lock period. 
Step 3: The Underwriting Process
During underwriting, the lender will verify your financial and property information to issue final approval on your loan.
Underwriters will scrutinize your credit history, income, debt-to-income ratio (DTI) and available assets. This process mostly happens behind the scenes, though it's possible that you'll be asked to provide additional documentation to prove assets or creditworthiness.
Step 4: Getting a Home Appraisal
Just like when you first got your mortgage, your lender will order an appraisal of your property.
An appraisal is an impartial opinion of a property's market value issued by a licensed appraiser. It determines the maximum amount you'll be able to borrow. To prepare for the appraiser's visual inspection, it's smart to make a list of upgrades you've made and complete any minor repairs.
If the appraised value of the home equals or is higher than the refinance, your refinance closing transaction will move forward. If the appraisal is lower than the refinance amount, your lender will not approve the refinance or it could reduce the amount of money the lender will allow you to cash out of the transaction. You can check the appraisal for accuracy and document any mistakes for your lender. Then submit your findings to your lender and ask for a review to address the errors and revise the valuation.
Step 5: Closing on Your Mortgage Refinance
The last step in a mortgage refinance is closing on your new loan.
A few days before closing, the lender will send you a closing disclosure document, where you'll find the final loan terms and costs you will be responsible for paying at closing. On the day of closing, you'll sign the refinancing documents and pay any unfinanced closing costs. If you're doing a cash-out refinance, you'll receive the funds shortly thereafter.
Mortgage Refinance: Commonly Asked Questions
How Long Does It Take to Refinance A Mortgage?
The whole refi process typically takes 15 to 45 days to complete, depending on several factors, including how long it takes to review your credit and obtain an appraisal.
While you should be prepared for somewhat longer processing times in the wake of the COVID-19 pandemic, refinances are usually a bit speedier than first mortgages.
Is It Worth It to Refinance My Mortgage?
There are several factors to consider when it comes to refinancing a mortgage – but the bottom line is to determine whether it will save you money or help you build a better budget. 
You might have heard rules of thumb like "you should refinance if you can lower your interest rate by half a point," but there is no one-size-fits-all strategy. You'll need to look at your own financial position and goals, as well as current market trends.
You'll also want to understand how refinancing compares to other home loan options like mortgage modification and second mortgages, as well as other ways of tapping into your equity, like home equity lines of credit (HELOCs).
Your lender can help you to assess all the options – and in the meantime, you can use a free online refinance calculator to see what would happen to your monthly payments if you refinanced your mortgage.
Can You Get Denied for A Refinance?
There are a few reasons a homeowner might not qualify for mortgage refinancing.
A low credit score, weak credit history or high debt-to-income ratio could lead to a denial. If this happens, focus on paying your bills on time and paying down existing debts, starting with credit cards and other forms of revolving credit. Once your credit improves, you can reapply for the loan.
If you have inconsistent employment or your income documents (like pay stubs and W-2s) show that your income is too low to manage the payments on the new mortgage, your lender may not approve the refinance. In addition, you may not qualify for a refinance if you have less than 20% equity in your home.
You might also be denied because of an involuntary lien on your home. This most often occurs due to unpaid property taxes. You will need to resolve the issue and file a Release of Lien at your local recorder's office before you can proceed with a refinance.
Finally, you might not qualify for a refinance if your mortgage is underwater. Also known as negative equity, this means that you owe more on your original mortgage than your home is currently worth, either because the property has decreased in value or because you've missed mortgage payments. If you're in this situation, investigate current government mortgage relief programs that could lend you a helping hand.
Does Home Refinancing Hurt Your Credit?
Mortgage refinances have the potential to affect your credit score, but in most cases the impact is temporary and minimal.
When lenders conduct a credit check during the loan application process, this appears as a hard inquiry or hard pull on your credit report, briefly lowering your VantageScore or FICO score by a few points. When you finalize your refi, this will also move the needle a bit. A few months of uninterrupted payments is usually all that's needed for your credit score to return to normal or even improve.
Looking to Refinance Your Home? Union Home Mortgage Can Help.
When you refinance with Union Home Mortgage, you'll work with a Partner who will deliver personalized service and keep you in the loop every step of the way home. Is now the right time? Don't wait to find out. Explore your options today.